Shanthakumaran Sreesanth, ശ്രീശാന്ത്‌, Santakumaran Srisant, is an Indian cricketer who has recently suspended by BCCI from playing IPL on May 16, 2013, pending inquiry into his alleged involvement in spot fixing, a charge that he confessed at first, but later denied.
He born on 6 February 1983 in Kothamangalam, Kerala, India. He is a right-arm fast-medium-pace bowler and a right-handed tail-ender batsman. In first class cricket, he plays for Kerala and in the Indian Premier League, he plays for Rajasthan Royals. He is also the first Kerala Ranji player to play Twenty20 cricket for India.
On 16 May 2013, the Delhi police arrested Sreesanth and two of his Rajasthan Royals teammates, Ajit Chandila and Ankeet Chavan from Mumbai, on charges of spot-fixing during IPL 6. Jiju Janardhan, another key figure accused of spot-fixing, is reported to be Sreesanth's cousin and an under-22 Gujarat player. On 17 May 2013, Sreesanth confessed to spot-fixing.
Police reported that Sreesanth was drunk at the time of his arrest and thought he was been arrested for being drunk. When the Delhi police team intercepted him, he was reportedly accompanied with a woman in a SUV outside a five-star hotel in Carter Road Promenade, Mumbai.
Sreesanth, and the two other players accused of spot fixing, have had their Rajasthan Royals contracts suspended while their inquiries are pending.
Lakshmi Rai is an Indian film actress and model from Belgaum, Karnataka, predominantly appearing in Malayalam and Tamil films. Rai born on May 5, 1989. While most of her Tamil releases performed poorly at the box office, she rose to fame with the popular Malayalam-language films Annan Thambi (2008), 2 Harihar Nagar (2009), Chattambinadu and Evidam Swargamanu (2009), establishing herself as one of the leading actresses in the Malayalam film industry. Career
Lakshmi Rai initially worked as a model before entering the film industry. She appeared in several television ads such as Sylcon Footwears, Josco Jewellers and Emmanuel Silks.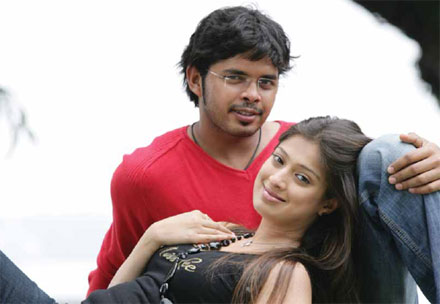 She made her acting debut in 2005 in the Tamil film Karka Kasadara. Subsequently she appeared in a number of unsuccessful Tamil films, including Kundakka Mandakka (2005), Dharmapuri (2006), and Nenjai Thodu (2007). In 2008, she began working in more serious films such as the drama film Velli Thirai, in which she played herself, and the action thriller Dhaam Dhoom. Her portrayal of a lawyer in the latter garnered her a Filmfare Award nomination in the category for Best Supporting Actress. She made her debut in Malayalam in 2007, starring in Rock & Roll opposite Mohanlal, which performed poorly at the box office. But she followed it up with several successful films such as Annan Thambi, 2 Harihar Nagar (2009), Evidam Swargamanu (2009), and Chattambinadu (2009) opposite Mammootty, which helped her gaining fame and popularity in Kerala. Further concentrating on Malayalam works, she is currently working on two Malayalam films, including the much-anticipated Christian Brothers and Casanovva both with Mohanlal.